Sport-Fit Pro Armband for iPhone 7
NEW
P-F8W783
/ {{blVariant}}
Sport-Fit Pro Armband for iPhone 7
NEW
P-F8W783
/ {{blVariant}}
Sport-Fit Pro Armband for iPhone 7
is rated out of
5
by
20
.
Overview
ENGINEERED FOR THE PERFECT FIT
The high-performance Sport-Fit Pro Armband doesn't just protect your phone while you're exercising - it's also incredibly comfortable to wear. The secure fit and slim design stays out of your way, so you forget you're even wearing it. Now you can concentrate on your workout, not your device.
MADE FOR:
SLIM & STYLISH
The Sport-Fit Pro Armband is made of stretchy neoprene material that's hand-washable and perforated for added breathability. It fits snug against your arm to give you full access to your screen without adding extra bulk. Reflective fabric accents keep you safe and visible to others.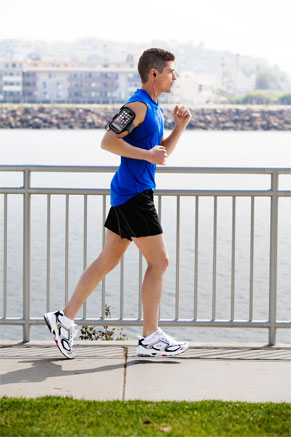 EASY TO ADJUST
We designed the Sport-Fit Pro Armband with a larger loop for the strap for two reasons: One, so it's easier to adjust to the fit that's most comfortable for you; and two, it keeps your skin from getting pinched or irritated.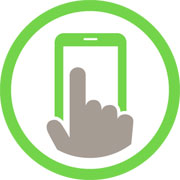 ACCESS TO BUTTONS & PORTS
Our Sport-Fit Pro Armband is designed so that the home button is fully accessible. You can quickly and easily operate your touchscreen keeping your iPhone inside your armband and on your arm.
At a Glance:
Lightweight, breathable material
Slimmer, adjustable strap
Comfortable, easy-to-adjust loop designs
Reflective accents for nighttime visibility
Clear screen protection
Hand-washable
Package Includes:
Belkin Sport-Fit Pro Armband
Features
Lightweight, breathable material
Slimmer, adjustable strap
Comfortable, easy-to-adjust loop designs
Reflective accents for nighttime visibility
Clear screen protection
Hand-washable
Customer Reviews
Rated

1

out of

5
by
Dea1
from
poor design
My husband purchased this for me once i upgraded to iphone 7 and its so poorly designed. 1. the access point for the headphones to be attached to the phone slot does not line up - it lines up with the design for the iphone 6 NOT iphone 7 where the slot is at the charging feed connector. 2. it does not recognize the home button in any way shape or form without taking it out of the case which i tried it during a workout and had to constantly stop and take it out to access phone. When you have a family and small kids your time away is valuable and getting a workout without interruptions would be lovely instead of stopping every 30 seconds because i cant access ANYTHING. 3. this thing is huge i'm 5'2 and 125 lbs on my arm it looks like i have a brick attached to me. it gets in the way and cant get full motion out of my arm with it on. and lastly 4. totally returning this and getting our money back its such a waist of money and time spent trying to make this product work. if i could give it no stars i totally would.
Date published: 2018-07-18
Rated

1

out of

5
by
Mac1
from
Piece of trash product
You can't press the home screen in your iPhone as you use this thing! It just won't press down. Makes absolutely no sense. Other than that it's good but it's extremely annoying having to take phone out of armband just to press Home
Date published: 2017-11-02
Rated

1

out of

5
by
TSteve
from
Looks Good
The arm band is too small for my arm (muscles), and comes a loose while running. Being a long distance runner it is pretty distracting having to focus on adjusting the band constantly. That is my biggest issue with this case, in addition to the complaints from other customers.
Date published: 2017-09-19
Rated

1

out of

5
by
Raquel22
from
Doesn't fit
You should make smaller sizes.. Ive used belkin for a while and when I tried to buy a new one ( for iphone7) it was to big for my arm .
Date published: 2017-08-24
Rated

5

out of

5
by
Kenberg
from
Perfect iPhone 6s
iPhone fits in easily, earbud and charging ports line up perfect.
Date published: 2017-05-27
Rated

1

out of

5
by
AshM
from
Can't access home button
I wish I'd have read the reviews online before I'd bought this. I had used the iPhone 6 armband happily with my previous phone and went out and bought the iPhone 7 armband to fit my new phone. As I've since discovered the reviews (but not the product description!) all say, you can't use the home button while the phone is in the armband. What a dopey design. The suggested workaround doesn't work for me while I'm running/exercising, partly because the apps I use don't have widgets and partly because it's not at all intuitive. If Belkin was serious about making good, they would offer a free trade-in to all customers to a product that works with the iPhone 7.
Date published: 2017-04-17
Rated

1

out of

5
by
laurenbythemile
from
Returned, doesn't fit the headphone jack
Because the iPhone 7 has ONLY the charging port for the headphones, you would think Belkin would have designed the case for this. Unforunately, Belkin didn't test their product before releasing it, because it has the headphone hole where it is on the older models and DID NOT update for the iPhone 7 changes. $35.00 spent, just to be returned to the store because the phone does not fit comfortably at all.
Date published: 2017-03-16
Rated

1

out of

5
by
Sophia
from
The Armband does recognize the iPhone 7 home butto
I bought this a month ago and have not been able to get through a single workout. It does not acknowledge the home button so you can't go between apps while working on. Complete waste of money, DO NOT PURCHASE.
Date published: 2017-03-08