Overview

INNOVATION OF THE YEAR
WEMO Maker™ named one of Popular Science's
"Best of What's New 2014" award winners.
Check out the press release
ADD WIFI TO ALMOST ANYTHING
Wemo Maker lets you control low-voltage electronics devices with a smartphone or tablet. Perfect for inventors and tinkerers, it's easy to use and works over your own home's Wi-Fi network. Turn things on and off, put them on schedules, or connect them to sensors that let you do even more. Like program your sprinklers to stay off when rain is forecast, or set watering schedules when you go out of town.
Learn more about adding WiFI to your sprinklers with Wemo Maker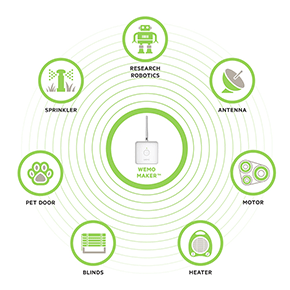 WEMO MAKER CAN BE USED AS A CONTROLLER, A SENSOR OR A MANAGER
An ideal tool for hobbyists who have wiring knowledge and enjoy taking electronics apart, the Wemo Maker can connect to nearly any device controlled with a DC switch (24v at 1 amp or 24 watts max)*. Once connected, the Wemo Maker allows you to monitor a variety of 5v digital sensors with a digital output. To control Wemo devices using your smartphone or tablet, simply download the free Wemo app, available for iOS, Android, and Kindle. Users can then set up rules that manage any Wemo device, based on the status of the Wemo Maker sensor. You can also change Maker's relay behavior between Momentary and Toggle mode to allow for more diverse use-cases.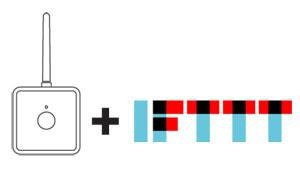 LIMITLESS CUSTOMIZATION
Wemo Maker works with IFTTT, a service that lets you create powerful connections with one simple statement: IF this, then that. You'll be able to use any data source on the web to act as a Wemo trigger and create customized automation rules and schedules to fit your personal preferences. You can, for example, create a trigger to open the pet door for your dog at sunrise or when you log out of your work email for the day. With Wemo and IFTTT, your imagination is your only limit.
EXPAND YOUR WEMO ECOSYSTEM
With Wemo Maker, technically expert users will now be able to connect any low voltage device into the Wemo ecoystem. Since the system is modular, you can automate as much or as little of your home as you'd like.
At A Glance:
Control nearly any low-voltage electronics device
Knowledge of electrical wiring required
Use triggers from a variety of sensors with the Wemo Maker
Control devices via smartphone or tablet with free Wemo app
Works with IFTTT for customization and unique use-cases
Integrates with other Wemo products
Package Includes:
Wemo Maker
Micro-USB cable
Universal Home Charger
Quick Install Guide
*If Maker is used in connection with a garage door opener to be operated remotely (i.e., not in direct view of the garage door), regulations may require that the garage door have certain features including, but not limited to, a trap sensor, and a strobe.
Additional regulations may apply depending on the jurisdiction and what device(s) you connect to the Maker. It is solely your responsibility to ensure that your use of the Maker in connection with any device is in compliance with all applicable laws and regulations.
The Wemo Community is where we look to you to help us define new ways to use Wemo products and help shape the future of our ever-growing Wemo family. If you're passionate about innovation, and simplifying your life, you belong here.
Join Now
Customer Reviews
Rated

4

out of

5
by
Jupemax
from
Works great & simple to install
I needed to install a garage door opener and found the Wemo to be practical and easy to install. Would recommend it to anyone
Date published: 2017-06-20
Rated

4

out of

5
by
dmb99
from
Works well if you can get it setup
It seems to work fine but took a few tries to get it setup and connected to network. After it updated, no problems. I can see for someone who is not familiar with the setup process having problems
Date published: 2016-07-11
Rated

5

out of

5
by
MrPaul
from
Works as it should
I bought two to control and monitor my garage doors remotely. I connected magnetic door alarm reed switches to the sensor input and the switch is connected to the button of my garage door wall switch. I now get alerts when my garage doors open, and can control them from anywhere. I've had problems with my garage doors opening by themselves in the past, so now I don't worry about that. Sometimes there is a delay when using the app to control the buttons, but after a few attempts it does work. I don't know if it is network related or other problem.
Date published: 2016-07-02
Rated

1

out of

5
by
This is me
from
Not very good.
I bought this about 6 months ago and wish l hadn't. Don't like it. It's to slow and quite often loses its connection.
Date published: 2016-06-23
Rated

5

out of

5
by
Kelly
from
Garage Door open/close with magnetic reed sensor
I am known to leave the garage door open, have read a few reviews and examples of how to use Wemo Maker to alert and close the door. We have about a dozen Wemo or Wemo compatible switches, light bulbs, sensors that have allowed us to be creative in turning things on and off via astrological schedules, turning on outside lights in concert that in the past, would have required a significant level of effort. So I have been itching to do this project and during a recent sale.. I pounced. And it worked right out of the gate.. as my wife goes down the Wemo app turning off all the lights when we are in bed at night.. "sensor tripped" signifies the garage door is down. My only recommendation is to have a way to rename "sensor tripped" to something more user friendly. Like Garage door closed..
Date published: 2016-06-23