Overview
ENJOY WARM, BRIGHT AND ENERGY EFFICIENT LIGHTING
WeMo Smart LED Bulbs are warm, bright light bulbs similar to traditional 60-watt incandescent, and they only consume 10 watts of energy and produce very little heat. These bulbs will help reduce the amount of energy you use and help with your cooling costs--saving you money. With a life expectancy of up to 23 years (based on 3 hours of daily usage), these may be the last light bulbs you ever buy.

WeMo Smart LED Bulbs are backed by a two-year limited warranty.
TURN YOUR LIGHTS ON/OFF AND DIM THEM FROM ANYWHERE
The WeMo LED Lighting Starter Set lets you access and control your WeMo Smart LED Bulbs from anywhere, using your existing home Wi-Fi network and mobile internet. Dim lights, turn them on or off, or create a custom schedule that works for your family. You can also set your lights to turn on automatically at sunset, dim them to watch a movie, or turn them off after you leave home, all from your smart device.
CREATE SCHEDULES AND MORE
Use the free WeMo App to create custom schedules for your home lighting. You can ensure the lights are always on when you come home from work or turn specific bulbs off every day to reduce power consumption. The WeMo App also lets you control each light individually or as a group according to room or area of the house.

The free WeMo App is available for Android, iOS, and Kindle operating systems and works on multiple smart devices simultaneously.
LIGHTING TO MATCH YOUR MOOD
WeMo Smart LED Bulbs can be dimmed to create the perfect ambiance--right from your smartphone. Dim the dining room lights to 80% for perfect restaurant lighting for a special meal, a celebration, or entertaining. The lights can be used at full brightness to help your kids with their homework productivity. Turn the living room lights down a little and curl up with your favorite book, or turn the bedroom lights down to relax. The WeMo App also offers a dim to sleep feature, setting the light to gradually dim until they're completely off. Establish a calming mood to help you fall asleep in a more natural way.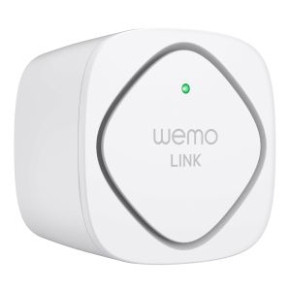 CONTROL UP TO 50 WEMO SMART LED BULBS WITH THE WEMO LINK
The WeMo LED Lighting Starter Set includes two WeMo Smart LED Bulbs and WeMo Link. WeMo Link allows you to connect up to 50 WeMo Smart LED Bulbs and control them individually or as a group. Additional WeMo Smart LED Bulbs are sold separately.
More Ways To Light Up Your Life
Expand your lighting possibilities with these smart bulbs that work seamlessly with your WeMo LED Lighting Start Set. Whether you want to dim your indoor lights to create the perfect mood, or illuminate outdoor areas before you get home from work, we have lots of smart bulbs to help light your way.

Perfect for customers who have either a static or dynamic white color temperature preference.
Ideal for use in general lighting, recessed downlighting, and track lighting systems.
Perfect for accenting furniture, counters, and objects in the home with a wide spectrum of colors.
Perfect for lighting outdoor gardens, decks, or walkways with a wide spectrum of colors.
LOOK LIKE YOU'RE HOME, EVEN WHEN YOU'RE NOT
Ideal for vacations and weekend getaways, the simulated occupancy feature controls all of your WeMo connected electronics through a random algorithm to turn things on and off automatically. It will appear as if you're at home, even when you're not. For example, your WeMo LED Light Bulbs can turn on in your bedroom, the radio connected to your WeMo Switch can play music in the living room, or your WeMo LED Light Bulbs can turn on for 45 minutes in your kitchen. From the outside looking in, it'll look like you're at home enjoying a night in.
EASY TO USE, EASY TO INSTALL
Installation is quick and easy. Simply plug WeMo Link into a central outlet in your home, replace your old light bulb with a new WeMo Smart LED Bulb, and download the free WeMo App to any smart device and enjoy. WeMo LED Lighting keeps you connected to your home lighting anywhere you are--over Wi-Fi, 3G, or 4G networks.
WEMO IS COMPLETELY MODULAR
The WeMo collection of products are designed to work together via the free WeMo App so that you control and monitor as much or as little of your home as you like. You can easily add additional WeMo products including Smart LED Bulbs, WeMo Switch, WeMo Motion, WeMo Light Switch or WeMo Insight Switches at any time to any room to control and monitor multiple devices or appliances. Program home automation triggers like using your WeMo Motion to turn on your WeMo LED lights when you walk into a room, or use the WeMo Insight Switch to learn about the cost savings of installing additional WeMo Smart LED bulbs--the combinations are endless.
(Coming Soon) Get Creative, Get Organized...WeMo works with IFTTT
IFTTT is a service that lets you create powerful connections with one simple statement: if this then that. IFTTT works with the WeMo collection of products to connect your home electronics to a whole world of online apps. Get a text or email when the front door opens, turn the lights on when the sun sets...the possibilities are countless. Visit IFTTT and discover all the exciting recipes you can create with WeMo + IFTTT.
WORKS WITH ANDROID, APPLE, AND KINDLE DEVICES
WeMo Smart LED Bulbs and WeMo Link are compatible with your existing home Wi-Fi router and your existing smartphone or tablet running Apple (iOS 8 and higher), Android (4.1 and higher), and Kindle Fire (3.0 and higher).
Features
Turn lights on, off or dim individually or as a group — from anywhere

Create custom schedules and control for your LED lights individually or as a group

Have your smart bulbs turn on a sunset or have them turn off at sunrise

Simulated Occupancy feature turns your lights on and off automatically making it look like you're home – even when you're not.

WeMo Smart LED Bulbs can gradually dim, so you can fall asleep in a more natural way

With the WeMo Lighting Starter Set you've already got everything you need: WeMo works with your existing home Wi-Fi network and mobile Internet (3G / 4G)

Modular system. You can add additional WeMo LED Light Bulbs easily, any time

Intuitive, easy set up and easy to use

Works with the entire family of Belkin WeMo products

Free WeMo App for Android, iOS and Kindle operating systems

Works with IFTTT, connecting you to a whole world of Web apps

WeMo works on multiple smart devices simultaneously

WeMo Smart LED Bulbs have a 23 year life expectancy

Bright, warm light similar to a 60W incandescent bulb

Two-year limited warranty
DEVICE COMPATIBILITY
Android smart devices running Android 4.1 or higher
iOS smart devices running iOS 8 or higher
iPod Touch 3rd Generation and later
iPhone 3GS and later
iPad 2 and later
iPad Mini
SYSTEM REQUIREMENTS
Wi-Fi Router with an internet connection
Either Android 4.1 or higher/ iOS 8 or higher
WiFi 2.4GHz 802.11n
WeMo App (downloadable from App Store, Google Play Store or Amazon App Store)
PRODUCT SPECIFICATIONS
Form Factor : A19

Connector Type : Edison Screw E26

Input Power : 120V options or

Max 120V~/16A/60Hz/1800W

Beam Angle : >240

°

LED Output Temperature: 3000K

LED Output Brightness : >800 Lumens (60 Watt Incandescent Equivalent)

Dimmable : <5% total brightness (via ZigBee control only)

Efficacy: > 50 lumens/watt

Life: 25,000 hours L70

Communications : ZigBee running HA 1.2 supporting "Dimmable Light" clusters. Tested to 50 devices, capable of potentially 500.

Number of Power Outlets: 1
PACKAGE CONTENTS
2 WeMo Smart LED Bulbs
1 WeMo Link
WARRANTY
Customer Reviews
Rated

1

out of

5
by
spots
from
Needs software
I bought the starter kit last year to use with a Motorola Milestone X2. The Android software is not compatible. Software also does not install on my Alcatel Pixi phone. Software installs on my Asus pad but does not work.
Date published: 2016-09-24
Rated

5

out of

5
by
Bobcatt
from
Works Great
I bought this 1 few months ago, works great, integrated to my system flawlessly
Date published: 2016-09-15
Rated

5

out of

5
by
automated
from
a nice addition to a automated home
getting the starter kit was a problem, ups "lost the package" but when it arrived the outside packing slip was for another order(so not sure who was to blame), but the inside was correct. it did take 2 weeks to finally get the kit. Once it arrived I have been happy with the product, like most other devices (nest,ring,I-smart alarm) linking into the wifi and syncing in the bulbs took a couple of tries. but now things are great. I us the IFttt app to link the automation, wemo products are on it so now, i have bulbs and switches that i can control not from my phone by seamlessly between devices. Example if motion is detected by nest then turn on the memo bulb in the foyer. I do nothing and the motion turns on the light. Another cool thing is the sleep timer, which when activated slowly turns off the light, it can also be programmed to turn off and on with the wemo app. In summary wemo has the right product for the right price to help further along your automated home.
Date published: 2016-09-15
Rated

1

out of

5
by
scott
from
Doesnt work!!
I have had this product for over a year and it has only worked 1 time. I have spent to many hours troubleshooting and moving the hub to different outlets. Unfortunately this product just doesn't work.
Date published: 2016-09-14
Rated

5

out of

5
by
Dave 4362
from
Outside and alarm lights
I bought the starter pack with 2 lights. One is used for an outside lamp post, which turns on before sunset and off later at night. The other is used as a "sunrise alarm" - it turns on slowly in the morning, then on again fully after a few minutes. They were both very easy to setup and work great!
Date published: 2016-08-29
Rated

1

out of

5
by
grant
from
do not buy they don't work after you loose wifi
I lost my wifi network and now they don't work I have done what they have said to do update nothing
Date published: 2016-08-21
Rated

1

out of

5
by
Mikjom
from
Inconsistent
Sometimes works .... sometimes not. Wi-Fi is fine, just very inconsistent.
Date published: 2016-08-12
Rated

3

out of

5
by
Iceethelight
from
Sad I can't use Wemo in multiple homes.
I purchased 2 memo starter kits, in hopes to use one in my day to day home and then another in my second home. I was bummed to find that I cannot use the Wemo app on 1 device to control Wemo devices in different homes. Please add this support. Until then I am unwilling to pair with my Nest devices, since Nest allows me to control devices in different homes within the same app. In the meantime I guess my husband will have to control one home on his device and me the other home on my device. Not the most ideal situation. :(
Date published: 2016-08-11