4 Port Hub + USB-C Cable + Mini Bluetooth Adapter
NEW
P-BUN1050
/ {{blVariant}}
4 Port Hub + USB-C Cable + Mini Bluetooth Adapter
NEW
P-BUN1050
/ {{blVariant}}
Overview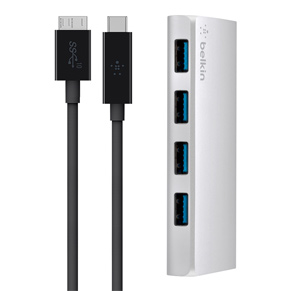 EASY TRANSITION
With USB-C set to revolutionize speed and efficiency in personal computing, make the transition to USB-C just as efficient with the Belkin 4-Port USB 3.0 Hub. Four powered USB 3.0 ports for your existing peripheral devices connect neatly to your USB-C computer or laptop, via one USB-C cable, delivering fast, effortless connection, while charging and transferring data.
MADE FOR:
USB-C Devices such as the New Macbook and Google Chromebook Pixel
Standard USB-A peripheral devices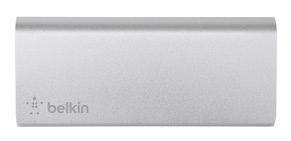 SUPER-FAST GETS SUPER-EASY
Bring the speed of USB-C to your existing peripheral devices.
Efficient transfer via USB-C, efficient transition with a USB 3.0 Hub.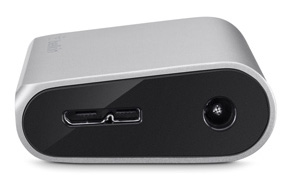 EFFICIENT TRANSFER, EFFICIENT TRANSITION
Transition to USB-C easily and rapidly with a USB 3.0 Hub.
For a transition in-keeping with the efficiency you expect from USB-C.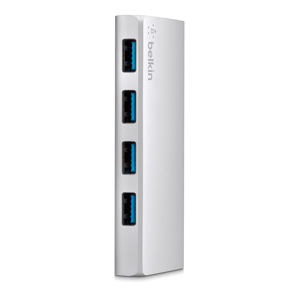 MAKE AN INTRODUCTION
Introduce your new USB-C enabled device to your existing peripherals.
4 Port Hub At a Glance:
5Gbps Data transfer rate
900mA Power Output per port
Includes 1 meter USB-C to Micro-B Cable

Includes a power supply (EU and UK plug)
4 Port Hub Package Includes:
4-PORT USB 3.0 Hub
USB-C to Micro-B 3.1 Cable
---
ADD BLUETOOTH® WIRELESS TECHNOLOGY TO YOUR DESKTOP, NOTEBOOK OR TABLET
Wirelessly connect up to seven Bluetooth-enabled devices. The Belkin Mini Bluetooth V4.0 Adapter provides cable-free connections to devices up to 10 meters away indoors. This compact, stylish adapter is unobtrusive when plugged into a USB port, and draws minimal energy, so it's perfect to leave plugged in and take anywhere. It is also backward-compatible with legacy Bluetooth technology.
WORKS WITH: MacBook Air, MacBook Air 11", MacBook Air 13", MacBook Pro
PERFECT FOR CONNECTING BLUETOOTH-ENABLED DEVICES
Such as:
Laptops/Ultrabooks™
Tablets
Printer
Camera
Smartphone
Mouse
Keyboard
Speakers
Headset
At A Glance:
Add Bluetooth® 4.0 technology to your PC
Wirelessly connect your computer to your smartphone, tablet or other Bluetooth devices
Stylish, ultra-compact design
10m indoor wireless range
Offers low power consumption
Supports Win XP/Vista/7/8
Backward-compatible with Bluetooth v1.1, 1.2 and 2.0
Package Includes:
Mini Bluetooth USB Adapter
Features
4 Port Hub:
5Gbps Data transfer rate
900mA Power Output per port
Includes 1 meter USB-C to Micro-B Cable
Includes a power supply (EU and UK plug)
Mini Bluetooth USB Adapter:
Add Bluetooth® 4.0 technology to your PC
Wirelessly connect your computer to your smartphone, tablet or other Bluetooth devices
Stylish, ultra-compact design
10m indoor wireless range
Offers low power consumption
Supports Win XP/Vista/7/8
Backward-compatible with Bluetooth v1.1, 1.2 and 2.0
COMPATIBILITY
Google Chromebook Pixel

Google Pixel C

MacBook